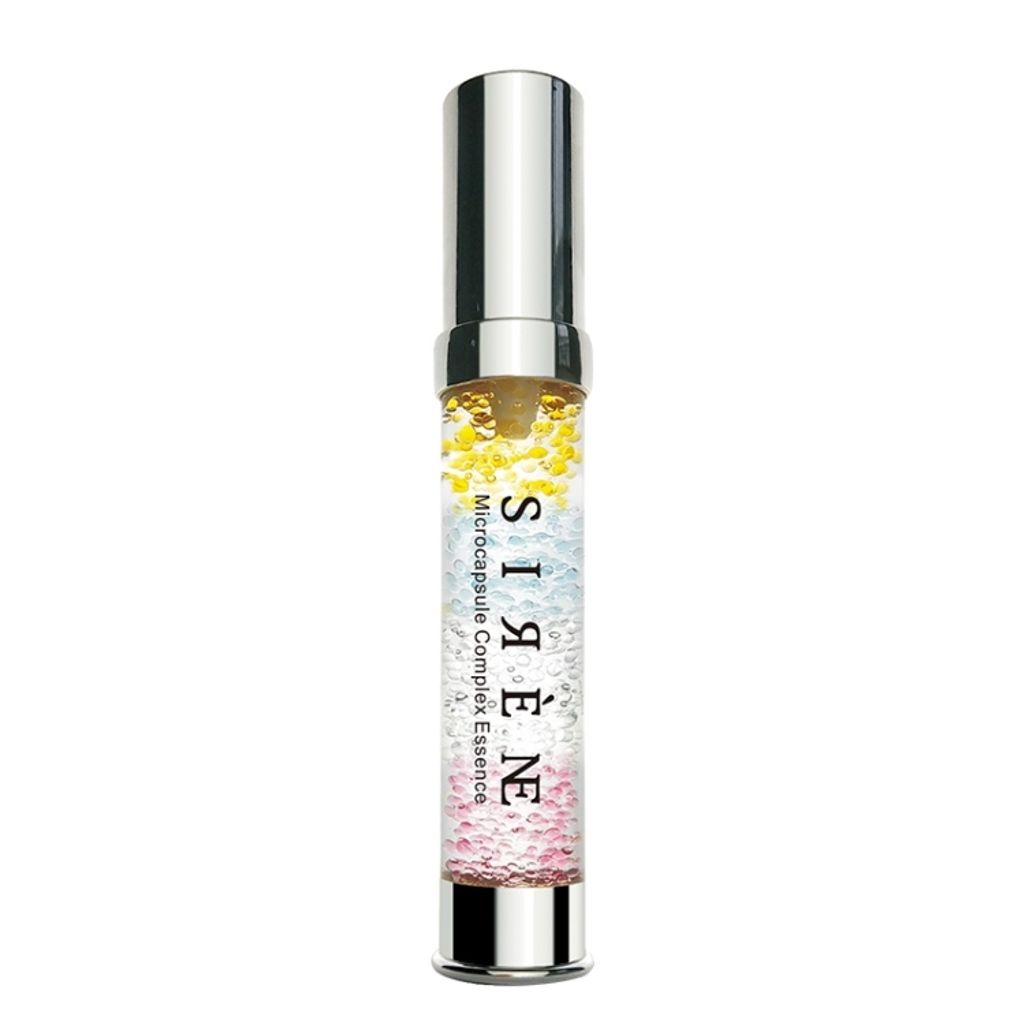 SIRENE Microcapsule Essence (english version)
sɪʀᴇɴᴇ ᴍɪᴄʀᴏᴄᴀᴘsᴜʟᴇ ᴄᴏᴍᴘʟᴇx ᴇssᴇɴᴄᴇ 🇫🇷


Advantages of Sirene Microcapsule Complex Essence

If the speed of repairing cannot keep up with the speed of aging, then the skin may cause some problems: acne scars, dark marks, pores, uneven skin tone, sagging, wrinkles and freckles.

For those who have skin problems that cannot be solved all the time and keep searching for the products to help. Are you fed up with the products that are not effective and obviously not helping at all? This is all about not choosing the right product.
Sirene Microcapsules Complex Essence is concentrated to cells and tissues repairing, one bottle of sirene microcapsule complex essence can solve mostly 99% of skin problems.
This essence contains the power of natural healing properties that activate youthful skin proteins no matter your age. The serum replenishes moisture-binding skin cells, activates resting cells and energizes skin.
Sirene Microcapsule Complex Essence is an authority formula powerful product to cure all skin problems and also an unique product that suit your need. Sirene may bring you a great experience with NO Pigmentation, No Acne, No Greasy Apperance, No Dry Skin and No More Other Skin Problems in the life time and rejuvenate the skin to more flawless, more radiant and transform skin based to a health skin. Good products must be shared around the people and helping more people to use correctly but not wasting.
Powerful repairing ingredients extracted from the essence:

Repair ingredient 1:Active peptide

Peptides are one of the most popular active ingredients for repairing damaged and aging skin. Peptides trigger increased collagen production, enhance antioxidant defense, and improve cellular repair. With the growth of age, peptide will enter an imbalance period and it may lead to the phenomenon of sagging. The essence of this peptide contains 6 kinds of active peptides that supplies anti-wrinkle action; an immediate radiance boost to the skin; effectively prevents and restrains melanin production, lighten spots, achieve flawless white and fair complexion.

Repair ingredient 2:Moringa oleifera, Neem 

Moringa oleifera is known as the "The Miracle Tree", one of the world's three treasures of plants; Neem is a national treasure plant from India, best known for its anti-aging properties. Due to its antioxidant properties, neem protects the skin from harmful UV rays, pollution and other environmental factors. Neem is also beneficial in fighting against fungal infection. It's anti-fungal and anti-bacterial properties protects the skin and keeps the skin related diseases away. These two plants have a number of bioactive components. It contains powerful antioxidants and vitamins for the skin which can rejuvenate and revitalize skin making skin looks youthful, elegantly radiant and also significantly prevent skin aging.

The benefits of moringa for skin:
Slows down ageing
Moringa may help firm up your facial skin and also help reduce wrinkles and blemishes, maintain beautiful and youthful skin.

Improves complexion
Moringa helps improve skin complexion by preventing blemished for a more even skin tone.

Fights acne
It prevents acne breakouts, due to its anti-bacterial properties.

Help in removing toxins
Pimple and acne breakouts may be signs of accumulation of toxins in the blood. Moringa helps purify blood into a clearer and healthier skin.
Reduces large pores
Moringa also acts on large open pores of the skin and tightens the skin. It has skin health boosting collagen protein, which helps in reducing pores.

Repairing ingredient 3:Caviar extract 

Caviar is the secret ingredient in beauty world. It contains very important Omega 3 fatty acids, and it is extremely rich in vitamins. These Omega 3 fatty acids contribute greatly to skin health and it's loaded with amino acids and vitamins that provide building blocks for skin cells to function optimally. Caviar extract is also known to for its anti-ageing properties. The most important properties of caviar extract are its moisturizing, nourishing, vitamin, and retexturing qualities. It contains nutrients and antioxidants that heal, regenerate and protect the skin.

Repairing ingredient 4:Hyaluronic acid, Tocopherol

Hyaluronic acid also known as hyaluronan. It secretly holds the key to smooth, flawless and hydrated skin. Hyaluronic acid helps retain over 1000 times its weight in water within the cells of skin, making it an excellent moisturizer. It also instant boost to skin's hydration level which can relieve dry skin and reduce the appearance of wrinkles.

Vitamin E, also called "tocopherol". It has moisturizing, healing, whitening and anti-inflammatory benefits, making it ideal for dry and irritated skin with a compromised barrier function.
---
There are two usages:

Solution for all skin problems (Oily, Combination, Sensitive, Acne, Freckle, Large Pores)

[1] When using for the first time, shake it thoroughly to activate the ingredients inside, mix the four different active ingredients together, press the pump button to dispense. For ideal results, apply 1-2 pump doses both morning and night after cleansing, and apply evenly over the face.

Notice: Please shake well before use; avoid the appearance of caviar (the yellow ingredients) floats on top of the upper layer.

Normal and dry skin

[2] Use according to the original structure (layer by layer); apply 1-2 pump doses both morning and night after cleansing, and apply evenly over the face.